Pendleton, Oregon is home to  the famous Pendleton Round-Up which started in 1910. The rodeo is considered by many as the most exciting rodeo in the world. It is held each year on the second week in September. The population of Pendleton is normally 17,000 but during roundup it is home to over 50,000 . The roundup stadium which seats 16,133 is looking spectacular as recently nearly ten million dollars was raised/borrowed for improvements.  Adding to the excitement of the rodeo is the participation of  Native American Indians.
"LET' ER BUCK"
1. The Pendleton Round-Up September 12th – September 17th
Well of course the top fun things to do during roundup week is to attend the World Famous Roundup itself.
Starting with the first go around on Wednesday, September 14th 2016, at 1:15 pm.
Wednesday September 10th is the official start of the rodeo and runs until Saturday September 15th.  The rodeo start at 1:15 P.M each day.
For ticket and general information visit pendletonroundup.com. The Pendleton Round-Up is a member of the Professional Rodeo Cowboys Association (PRCA).
Bareback riding, Saddle bronc riding, Calf roping, Team roping, Steer wrestling, Barrel racing, Steer roping, Brahma bull riding, Indian relay races, Wild cow milking.

Photo Source: Arlen Bischke
Tough Enough To Wear Pink Day
On Sept 15th at the Pendleton Round Up Stadium, they will be holding a special Tough Enough To Wear Pink Day. Over the past decades, they participate in this event and raise money for local cancer support groups. Cowboys wearing pink might sound funny for some but that is what causes this event to stand out from the others and possibly why it could be so successful. The cost for the event is between $15/20.


Photo Source and for more info visit: pendletonroundup.com
Children's Rodeo Thursday
There has been a lot of exciting changes for the Children's Rodeo this year in Pendeleton. The event will be held on Thursday at Sept 15st, 2016. In the past, it's been held on Wednesday but not this year. The time has also been changed and it's at 10:30 am and not 11:30 am. Organizers have also expanded the age range so children between the ages of 5 through 12 can join in, when in the past it was only between 5 through 9 years of age. Some of the activities include riding horses, riding in a horse drawn bug, barrel racing on stick ponies, roping a pretend steer and many other fun and exciting activities.


Photo Source and for more info visit: pendletonroundup.com
2. Happy Canyon Night Show September 14th-17th 2016
4,230 seat arena
This  is a show that everyone should attend at least once or twice.
Show begins promptly at 7:45 p.m.
Price: $10.00-$17.00 Show begins promptly at 7:45 p.m.
Price: $10.00-$17.00  http://happycanyon.com/
The Happy Canyon Pageant is a show depicting the settling of the American West, beginning with a portrayal of the Native American way of life prior to the arrival of the white man, continuing with the arrival of Lewis and Clark, followed by the prairie schooners of the pioneers of the Oregon Trail and concluding with a reenactment of a frontier town's rollicking main street mishaps.
The actors are members of the community, mostly volunteers, and include Native Indians from many different tribes.
It takes about 500 people to make the Happy Canyon Indian Pageant and Wild West show happen every year. The Happy canyon Show is a live performance with animals. Volunteers act out an entertaining version of how the West was settled. Hundreds of years are compressed in about a 2 hour performance including some comedy sketches, shoot-outs, and can-can dancers.


Photo Source: HappyCanyon.com
3. Parades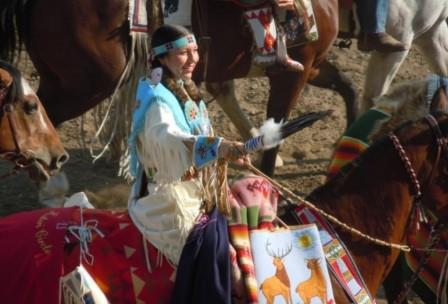 Photo source Arlen Bischke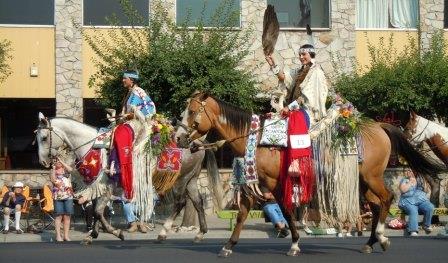 Photo source Arlen Bischke
Dress-Up parade this year is Sept. 10 and starts at 10am.  Join in the fun with a float or just sit back and enjoy the show! The annual Dress Up Parade is the kickoff event for Round-Up week and is hosted by the Main Street Cowboys.  Pretty much anything goes but you will for sure see some horses, Native Indians, Cowboys, Marching Bands, motorized floats, etc.
During the roundup on Friday, September  16th at 10 A.M. there is the Westward Ho Parade. This is a traditional parade where no motorized vehicles are allowed. You will see early transportation such as mules, oxen-drawn covered wagons, Mormon carts, buggies, surreys, and much more. Also, featured will be most of the Indians who are camped at the Round-Up grounds, all dressed up in their tribal attire. You will see a lot horses, Cowboys, rodeo queen and princesses, and much more.

Photo Source: pendletonroundup.com
4. Main Street Cowboys presents "The Greatest Free Show in the West".
September 13-17h.


mainstreetcowboys.org
Do you ever say "If it is free it is for me". Well cowboys come on down to main street and enjoy the entertainment spread out on 5 stages. It won't cost you any money, unless of course you checkout the many vendors selling delicious food and merchandise or visit the Davis Shows Northwest Carnival located on the South end of Main Street!
Entertainers on Mainstreet
Brady Goss & Band
Brian Ledbetter
Carrie Cunningham and the Six Shooters
Davis Shows N.W.
Joe Stoddard Band
The Joe Slick Band
L-Bow the Clown
Manfred
Marty Davis
Mechanical Bull
Randy Linder
Rock Bottom Boys
Steve the Pretty Good
The Joe Slick Band
The Misadventures of Cap'n Arrr
Toni Elder Face Painting
Travl'n Opry
5. Lee Brice Concert following the parade Sept 10th 7 pm
Following the parade, you'll be able to hear Lee Brice in concert on Sept 10th at 7 pm. He's a country music sensation plus he's the winner for the 2015 Academy of Country Music Awards Single Record of the Year. A couple of his award winning hits include "I Don't Dance" and "I Drive Your Truck". Both of these songs won the Song of the Year in 2014 and in 2015. Before he had such success as a writer he said he also had success as an artist. He started writing songs just at the age of 10 and then he wanted to sing them. Brice has gained a lot of recognition and has helped to write some hit songs for other fellow country artists such as Jason Aldean, Tim McGraw and Garth Brooks. The cost is anywhere between $40 to $130 visit pendletonroundup.com/events for more info.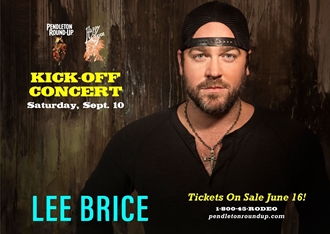 http://www.pendletonroundup.com/events/2016/concert
6. Parties Everywhere
It is not only the rodeo that people flock to Pendleton for as there are many other events going on. Many people come for the drinking, dancing, yelling, and partying all week long. Party here, party there, party everywhere. Your problem won't be finding a party with good music and dancing but which party to attend. There is just too many too mention. Virtually every bar will have its own group booked and there will be many others outside the bars including under a motel in their party lot.
Please drink responsibly and have a designated driver. Remember this is the Wild West with real cowboys and Indians so treat them with respect and that is how they will treat you. Drive under the influence of alcohol and the Pendleton Police force will throw you in the crowded Umatilla County Jail and give you one gigantic fine.
Photo Source: 1859oregonmagazine.com
7. Professional Bull Riding ( PBR) at the Happy Canyon Arena
Sept 12 – Sept 13, 2016 you can watch talented cowboys try to ride world class 2,000 pound bulls for eight seconds. If you like bull riding then don't miss this even that kicks off the two days prior to the  Pendleton Roundup.


Photo source: pendletonroundup.com
8. BBQ Dinner on Sept 14th 2016
A special BBQ dinner will be served following the Rodeo on Wednesday. Make sure that you come with an appetite so you won't miss out on the good food. The cost is $8. The time will be at 5 pm and located at the Pendleton Round Up Stadium.
Photo Source: pendletonroundup.com
9. Cowboy Breakfast
Wednesday September 14th thru Friday September 16th,  2016.
One of the great traditions of the Pendleton Roundup week is the VFW Cowboy Breakfast at Stillman Park. You can enjoy some live country music while you enjoy generous servings of pancakes, eggs, ham, coffee, milk, and juice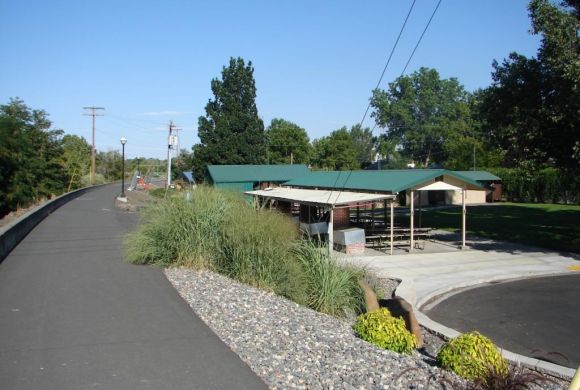 Photo Source: Arlen Bischke (Stillman park is located next to the Umatilla River and River Walk)
Address is 413 S.E. Byers, Pendleton, Oregon 97801
10. 27th Annual Round-Up Foundation Memorial Golf Tournament at the Pendleton Country Club. Net proceeds support Justin Cowboy Crisis Fund. To sign up call 541-240-1633 or visit www.justincowboycrisisfund.org
Bonus
If Pentecostal revival is your thing, The Pendleton Lighthouse Church will be holding a revival with Evangelist Preston Plemons.  It takes place Sunday at 10 A.M. and 6 p.m.  Then, Monday through Wednesday at 7 P.M. The church is located at 417 N.W. 21
st
street, Pendleton, Oregon. For more information contact
Pastor Dan Satterwhite
Conclusion
There is so much going on we could not mention all of them in the top ten.
You may want to also check out the Pendleton Hall of Fame across from the Round UP, Pendleton Underground tours, Pendleton Woolen Mills, Pendleton River walk, Wildhorse Casino and much more.
Video about history of Pendleont Round-Up
Produced by the Oregon Public Broadcasting (2010)
If you like this post, you may also like to follow us on
Twitter
, or subscribe to this blog by
Email
or
RSS feed!